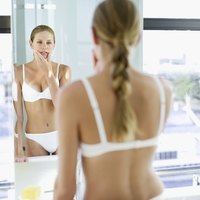 When we were teenagers, my friends and I had varying degrees of acne. Some had none, others a lot, while I'd get the occasional large pimple. We all took care of our skin. We all indulged on junk food and soda. So why did a lucky few have clear complexions while the rest of us squeezed -- or tried not to squeeze -- dabbed with Oxy Clear, and spread on the cover-up?
Definition and Causes
What is acne exactly? Acne vulgaris, or common acne, is a skin condition caused by a buildup of sebum, or oil, in the pores. Sebum is necessary for keeping hair and skin lubricated, but too much can clog the pores. That, along with a surplus of dead skin cells and bacteria, can result in what we all know as the common zit.
Common acne can appear anywhere where there are pores -- the face, scalp, chest and back are common areas -- and can take on different forms. Whiteheads and blackheads, or comedones, result when pores are clogged by sebum, dead skin cells, and sometimes bacteria. Papules are small raised bumps that are red, while pustules are red with white tips. Both may be slightly painful, and indicate infection in the hair follicles. Nodules are larger, painful, and lie beneath the surface of the skin. Cysts are pus-filled and can cause scarring.
So we all have sebum-producing hair follicles, shed dead skin cells, and encounter bacteria -- why do only some of us get those nasty epidermal eruptions?
Risk Factors
Hormones may cause an overproduction of sebum. As teenagers go through puberty, their bodies go through hormonal changes, which cause a surge in sebum production. This is also why some girls and women break out right around the times of their periods, as well as during and right after pregnancy. Some women's hormones levels change even well beyond adolescence, resulting in acne again -- or for the first time -- at thirty or forty.
Family history is another factor. If one of your parents had acne, you probably will too. Some medicines may cause acne, such as cortisone or those treating epilepsy or depression. Direct exposure to oily substances may cause breakouts as well. For example, someone with oily skin who uses a rich moisturizer may end up with a pimple or two. Friction or pressure on the skin from an item such as a phone, helmet, backpack, etc., may result in clogged pores as well.
Myths
Some people believe that eating chocolate and greasy foods causes acne. However, there isn't enough clinical evidence to support this. The American Academy of Dermatology suggests that the same stress that drives people to these comfort foods is actually the real culprit.
But if you find that you often break out after eating certain foods, you may want to avoid or limit these foods.
Treatment
You can treat mild acne with over-the-counter products that contain salicylic acid or benzoyl peroxide. If you feel these products are ineffective, talk to your doctor about getting prescription-strength medication or antibiotics. Some women take birth control pills, which regulate hormone levels, to treat severe acne.
Cosmetic peels and laser therapy are additional options. Ask your doctor if these are right for you.
Prevention
There are a few steps you can take.
Cleanse gently. To prevent acne, use a gentle cleanser on your face and any other affected parts. Avoid scrubbing those areas as that will actually promote oil production and exacerbate acne.
Exfoliate gently. Since a buildup of dead skin cells is one of the acne culprits, it makes sense to exfoliate your skin regularly. Again, use a gentle exfoliant, such as a mask with natural enzymes that gently slough away dull, dead skin.
Don't touch your face. Resting your hands, which have oil, on your face may cause pimples. Objects such as phone receivers, helmet straps, and headbands may also. Tight clothing and backpacks may cause body acne.
Wash your hair. Especially if it's oily. Oily hair brushing against the skin can promote acne.
Use the right products for your skin type. Slathering heavy moisturizer onto oily skin will only cause more breakouts. Be sure to know what kind of skin you have so that you can use the products that are right for you.