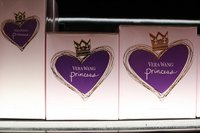 Since the 1940s, the majority of perfumes have been produced using chemicals. While scents made with natural materials will do little more than exacerbate allergies, the newer, synthetic versions can have many more unpleasant effects. The National Academy of Sciences reports that 95 percent of the chemicals used in fragrances today are synthetic compounds derived from petroleum, including known toxins capable of causing cancer, birth defects, central nervous system disorders and allergic reactions. While there are hundreds of chemicals used in perfume, some are more common, and their effects have been documented.
Acetone
Acetone is classed as a central nervous system depressant. It can cause drowsiness, dry mouth and throat, slurred speech, and nausea. In extreme cases, it can induce a coma.
Benzaldehyde
Benzaldehyde is another central nervous system depressant. In addition to irritating your eyes, mouth and throat, it can cause gastrointestinal discomfort and kidney damage.
Benzyl Acetate
Benzyl Acetate is a carcinogenic compound, meaning that it can cause cancer. Symptoms will depend on how it is absorbed. If it is inhaled, you may experience irritated lungs and eyes and a cough. It can also be absorbed through your skin and can cause various systemic effects as a result.
Camphor
Camphor is a central nervous system stimulant and local irritant. If it is absorbed through your skin you may experience dizziness, nausea, twitching muscles, or convulsions, along with irritation of your eyes, nose, and throat. It is best to completely avoid inhaling camphor fumes, as this can cause seizures.
Ethanol
Ethanol is dangerous enough to be on the Environmental Protection Act's hazardous waste list. Small amounts are potent enough to cause symptoms such as eye and respiratory tract irritation and fatigue. Inhalation can cause drowsiness, stupor, lack of muscle coordination and impaired vision.