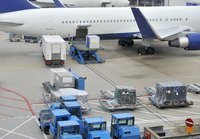 Air freight shipping has become increasingly popular with a more dispersed and global business environment. While companies must use trucks for delivery of goods to and from an airport, primary benefits of air transportation relative to ground shipping alone include efficiency, reach and security.
Broader Reach
Planes allow American companies to reach global destinations that they couldn't reach with trucks alone. Even small businesses are able to participate in international trade with airplane transportation. International companies also rely on air freight to source the most economical supplies from different parts of the world at a given manufacturing facility.
Delivery Efficiency
One of the main reasons a business transports goods through the air is efficiency. Planes simply move faster than trucks. A company might get materials or goods from one coast of the United States to the other in a few hours, whereas it would take a truck much longer. Delivery efficiency is a priority when shipping time-sensitive items. Companies often use planes to move perishable food items, for example. Even though businesses can use climate-controlled trucks for some items, produce that doesn't get refrigerated benefits from faster transport.
Delivery Flexibility
Closely related to the delivery efficiency benefit is delivery flexibility. Business buyers leverage the capabilities of air transportation to place last-minute orders. A supplier is more equipped to respond quickly to a seasonal order from a global buyer via air transport. Some wholesalers and retailers like to delay orders to watch demand for certain goods. If demand is high, they want to place orders near the time of replenishment. A supplier that is prepared to respond with flexible shipping is more likely to get the business.
Transportation Security
Air cargo is typically more secure than ground shipments. Airport security is very tight with cargo shipments. This security minimizes the risks of stolen or damaged goods, which is a huge expense for companies. Ground transportation is not as secure. It is possible for trucks to get hijacked or robbed, especially on long trips with frequent stops. A long, bumpy ride on a truck can also damage inventory, which makes for a huge financial loss.