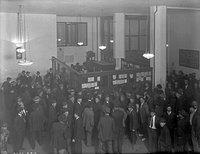 A Canadian can request a five-week extension for unemployment benefits. Canada limits the total weeks in the payment period to 104.
Rules
The Canadian must not be eligible for unemployment benefits for five weeks in the payment period. Five reasons make an employee ineligible.
Unemployment Week
Each week the employee does not work a full working week counts as a week of unemployment.
Incarceration
An employee can receive an extension for time spent in a jail, a penitentiary or an institution used to incarcerate criminals.
Workers' Compensation
Add weeks you received payments for workers' compensation or severance pay from your employer. The payments keep you ineligible for unemployment benefits during these weeks.
Child Care
Extend the period for the weeks you cared for a newborn child or adopted child in a hospital, beginning within the first 52 weeks after birth or adoption. Also add weeks the mother ceased work to prevent danger to the mother, her unborn child or a child she breastfeeds and received provincial payments.