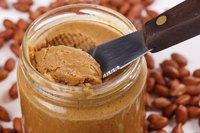 Peanut butter makes a healthy addition to any diet, even if you have diabetes. The nut butter is filled with healthy fat that's good for your heart, and it may help you get better control over your blood sugar. Consult your doctor or dietitian to discuss adding peanut butter to your diet plan.
Peanut Butter Nutrition
Due to its nutritional makeup, peanut butter is considered a fat when meal planning for diabetes. For people with diabetes, a serving of peanut butter is 1 teaspoon, which contains 31 calories, 1 gram of protein, 3 grams of fat, 1 gram of carbohydrate and less than 1 gram of fiber.
On a jar of peanut butter, you'll notice that the standard serving size is listed as 2 tablespoons. This amount contains 190 calories, 7 grams of protein, 16 grams of fat, 8 grams of carbs and 2 grams of fiber.
Peanut Butter and Blood Sugar
Adding peanut butter to your meals may aid in blood sugar control. A study published in The British Journal of Nutrition in 2013 investigated the effects of adding about 2 1/2 tablespoons of peanut butter at breakfast and lunch on blood sugar levels and appetite in a small group of obese women with a high risk of Type 2 diabetes. The study found an improvement in both blood sugar and appetite in the group of women who ate peanut butter at breakfast. This was a small study, and more research may be necessary before claims and recommendations can be made.
Good for Your Heart
People with diabetes are two to four times more likely to develop heart disease than people without diabetes, according to the American Heart Association, even if they have good control over their blood sugars.
However, adding healthy foods such as peanut butter to your regular diet may offer some protection. The monounsaturated fats in peanut butter, when used to replace saturated fats like those found in full-fat cheese and butter, may help lower your cholesterol. Also, the phytochemicals in peanut butter may act as antioxidants, protecting your cells from free radical damage, which may play a role in reducing your risk of heart disease.
Adding Peanut Butter to Your Diet
Peanut butter is a concentrated source of calories, so if you're trying to lose weight, measure out the appropriate portion to keep calories in check.
You can replace other foods in your diet with peanut butter. For example, instead of butter on your whole-wheat toast, use peanut butter. Or use it as a dip for your fruit at snack time to replace your string cheese. For a low-carb snack, spread a little peanut butter on some celery or carrot sticks.
For overall health, stick with natural peanut butter without any added sugar or hydrogenated oils.