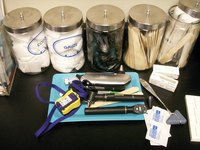 A fungus infection is an illness that results from a fungal pathogen. Pathogens that cause human illness typically fall into three categories: bacterial, viral or fungal. Fungal infections can affect many parts of the body and can be one of the more difficult pathogen types to treat.
Fungus
A fungus is a heterotrophic organism, which means it must digest food to live, unlike green plants which make food from photosynthesis.
Types of Fungi
Fungi include mushrooms, mold, yeasts and parasitic fungi. Yeasts and parasitic fungi are generally the types of fungi that live in human hosts and can cause illness when they become too abundant in our bodies.
Yeast
Yeast is a single-celled fungus that commonly lives in the human body. Yeast can cause illness or infection when it becomes too abundant, usually as the result of an imbalance in the microorganism community in the body (for example, when antibiotics suppress the bacteria which naturally keep yeast in check). Yeast infections can occur in the mouth (thrush) or as diaper rash or vaginal infection.
Other Fungal Infections
Opportunistic fungi like Histoplasma capsulatum or Coccidioides immitis can cause pneumonia, especially in people with compromised immune systems. According to the Mayo Clinic, dermatophyte fungal infections of the nails can cause thick, brittle and painful nails that are particularly difficult to treat.
Treatment
Yeast infections are typically caused by Candida species and can be treated with over-the-counter or prescription anti-fungal creams, ointments or tablets. Pulmonary fungal infections can be difficult to treat, but anti-fungal drugs like Fluconazole are usually prescribed. Nail fungal infections can be treated with prescription oral anti-fungal drugs, but these may have serious side effects. Surgery is sometimes an option for serious nail fungal infections.