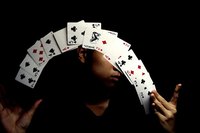 Risk and uncertainty are factors in managing projects. Risk involves the possibility of future events the probabilities of which can be calculated. If there is incomplete information and the expected value of occurrences cannot be determined, those elements are uncertainties.
Time Frame
Risk involves a future uncertainty that will impact a project if it occurs. The project manager does not know when or if an impact will occur, but does know probabilities of the class of events. Uncertainty generally involves present reality. The project manager has information about factors that exist and will affect the project, but the value of impact cannot be calculated.
Risk Analysis
The purpose of risk analysis is to understand possible risks to success and to evaluate the possible impact. The values of various risks to a project are generally expressed in financial terms.
Measurements
Measurement of risk can be based on data from a variety of sources, including accounting data and various other measurements. Measurements used should be objective, quantitative, valid and reliable.
Management
Risk is handled by developing contingency plans in case an event occurs. Uncertainty is handled by trying to eliminate/reduce its effect before proceeding.
Steps
Basic steps for handling risk and uncertainty: Identify issues. Consider impact. Consider ways to monitor. Make plans that are aware. Plan for alternatives. Design system for control.