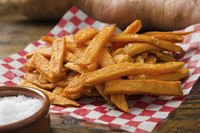 Besides offering you completely different flavors, sweet potatoes and white potatoes have distinct nutritional profiles, too. Compare the nutrients in the two when deciding which spud to pair with the other foods in your meals. Don't confuse sweet potatoes with yams – even though Americans use the terms interchangeably, the two vegetables are different.
Sweet Potato Nutrition
Sweet potatoes provide a wealth of nutrition in just a medium-sized serving -- a potato about 5 inches long and 2 inches in diameter. At 103 calories, a sweet potato baked in the skin is a naturally low-fat food with a little over 2 grams of protein and 24 grams of carbohydrate. Of those carbs, 4 grams are fiber and 7 natural sugars – which explains the sweet taste. Fiber keeps you feeling satisfied, promoting weight loss and management. In addition, fiber supports healthy bowel function, controls blood sugar levels and lowers unhealthy cholesterol in your blood. Women need about 25 grams of fiber daily, while men should get 38 grams.
Sweet Potato Micronutrients
Sweet potatoes are a good source of key antioxidants. A medium sweet potato provides 12 milligrams of vitamin C – 13 percent of a man's daily needs and 16 percent of a woman's. In addition to its antioxidant activity, vitamin C helps build cartilage, skin, blood vessels and other tissues and assists with wound healing.
Sweet potatoes' real claim to fame, however, is their vitamin A content, with almost 1,100 micrograms in a medium serving – well over 100 percent of the daily needs of women and men. Vitamin A, which supports healthy skin, tissues and eyes, is especially important to night vision.
You'll also get a good amount of potassium in a sweet potato, with 542 milligrams in a serving, or 12 percent of the recommended amount.
White Potato Nutrition
A small baked white potato about 2 inches in diameter, weighing just a little more than a medium sweet potato, may be your go-to side dish, but be aware it's slightly higher in calories than a sweet potato. Without any toppings, one serving provides 130 calories. It also supplies 3 grams of protein and 29 grams of carbohydrate, with 3 grams coming from fiber. The natural sugar content is lower than for sweet potatoes, with only 2 grams.
White Potato Micronutrients
White potatoes stand out as an excellent source of potassium in the diet, with 750 milligrams in a small spud. That's 16 percent of what you need daily to help support healthy blood pressure. Their vitamin C content is also notable, with 17 milligrams in a small potato, or between 19 percent and 23 percent of your daily requirement.
Compared to sweet potatoes, white potatoes are richer in niacin, a B vitamin that helps convert carbohydrates into fuel for the body -- each small potato supplies almost 3 milligrams of the 14 women need daily and the 16 men require.
But a white potato gives you only a trace amount of vitamin A, so if you're looking for vision support, a sweet potato is the better choice.
Some Considerations
Both types of potatoes rank high on the glycemic index, a tool that measures how quickly a food turns into glucose in the bloodstream. Sweet potatoes rate a 70, but a regular russet potato's GI is through the roof at 111. Steer clear of the fatty add-ins so popular in the American diet, like butter, sour cream or cheddar cheese. Try a sprinkle of Parmesan and chives on a white potato, or opt for a drizzle of olive oil and some cracked pepper on a sweet potato.