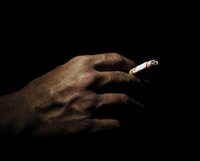 Chantix, also known as varenicline, was developed by Pfizer pharmaceutical company as a way for smokers to break their addiction to Nicotine. Although it works similarly to an anti-depressant, it is not approved for this use.
Similarities
The similarities between Chantix and approved antidepressants is the soothing effect both create in the brain by reacting with specific receptors. Unfortunately, according to the Food and Drug Administration, the drug may also cause suicidal thoughts and tendencies. This has hampered research into using Chantix as an antidepressant.
FDA Approvals
The Food and Drug Administration (FDA) approved Chantix for help with smoking cessation in May of 2006. It did so through six successful clinical trials in which a total of 3,659 smokers (each who claimed to smoke 10 or more cigarettes a day) were placed on the medication or a placebo to test its effects, reports Medi-Lexicon.
How it Works
Chantix works by interacting with a specific receptor in the brain called the "alpha-4 beta-2 nicotinic" receptor. Chantix binds to the receptor making it impossible for nicotine to act on it. Although it causes a small agonistic effect (enough to help ease cravings), it does not create the same pleasant effects that a smoker would normally get from a cigarette, according to Medi-Lexicon.
Side Effects
The FDA reports that Chantix does come with a host of possible side effects including nausea, headache, insomnia, dry mouth and gas. Serious side effects include the possibility of suicidal thoughts or tendencies, and abnormal dreams.
Current Research
Although Chantix is not approved as an antidepressant, studies are underway researching its possibilities to be used as such. Other studies are being done by the Pfizer company itself to determine the safety and possibility of using the medication for adolescent smokers as young as 16. Currently the drug is only FDA approved for 18 and older.