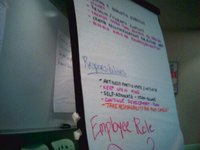 Human resources training and development is a function within a human resources department that increases individual and organizational performance to achieve desired organizational results.
Function
Human resources departments often have one or several individuals that specialize in this area to determine, plan and execute organizational development needs in a variety of ways.
Types
Surveys are often conducted to determine training and development needs throughout an organization. Execution can include classroom, interactive or individual training.
Basic Training
Basic training includes employee orientation for new employees. This offers basic information regarding an employer's policies, procedures, benefits, departments and work schedules.
Complex Training
Complex training is developed for specific procedural skills required for different jobs within an organization. This ensures a collaborative effort and efficient overall process to accomplish required tasks throughout an organization.
Supervisory Training
Many organizations promote internal employees into supervisory positions who have no skills related to these roles. Supervisory training ensures the promoted employee understands all basic laws, procedures and employee relations skills required to be successful in their role.
Benefits
Offering these benefits to employees promotes growth. It ensures employees have the required skills and organizational knowledge to perform their responsibilities and understand how it relates to their employer's business objectives.