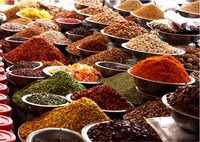 Turmeric, and its active ingredient curcurmin, has been shown to "reduce inflammation by lowering histamine levels and possibly by increasing production of natural cortisone by the adrenal glands," according to the University of California at San Diego (UCSD). Joint pain may be relieved by the anti-inflammatory properties of turmeric by reducing pain and stiffness.
History
Turmeric has been used for thousands of years in traditional medicine to treat a variety of ailments, including reduction of inflammation from arthritis, according to the National Center for Complementary and Alternative Medicine (NCCAM).
Source
Most turmeric comes from India, where it is often used to color and flavor curries, according to UCSD. Medicinally, the root and rhizome, or underground stem, are used (UCSD).
Dosage
UCSD recommends 250 to 500 mg three times per day. University of Maryland Medical Center (UMMC) specifies for fluid extracts: 30 to 90 drops per day, dried and powdered root: 1 to 3 g per day, or for standardized powder: 400 to 600 mg taken three times per day.
Methods of Use
Stems are dried and taken orally in capsule or powder form, as tea, or tumeric may be used as a paste and applied to the skin, according to NCCAM.
Side Effects
Turmeric is safe, but precautions should be taken if pregnant or if gall stones are diagnosed. High doses may cause indigestion, according to NCCAM. UMMC says mixing turmeric with blood thinning medications or stomach acid reducing medicines may reduce their effectiveness.