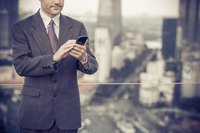 We have all heard about people "working on commission." It sometimes makes us wary, but at other times makes us feel like a special customer. What exactly does it mean, and how does the compensation system work?
Definition
A commission agent works for a principal and derives compensation from actual sales, usually expressed as a percentage of sales.
Function
Commission agents represent the principal, usually a company, and act as a representative. They locate buyers for goods/services, provide information about the product, make the sale, and ensure delivery and follow-up service.
Types
Commission agents thrive in a variety of businesses. International agents work in the export/import arena. Insurance and real estate agents also often work on a sales-based commission.
Benefits
Benefits accrue to both the principal and agent. Principals can extend market reach without incurring major fixed personnel costs, and agents can earn compensation based on their productivity. Some agents may represent more than one principal.
Considerations
Commission agents depend directly on customers for their compensation. While they may be aggressive, they also depend on satisfied customers for repeat business and are motivated to that end.