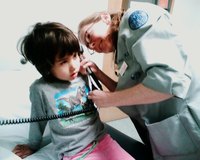 Shingles is caused by the varicella foster virus. This virus is also responsible for causing chicken pox. Shingles, also known as herpes zoster, is normally found in adults over the age of 50, although it is also possible for a younger person to develop shingles.
Newborns
If a mother has developed a case of chicken pox up to 21 days before giving birth, the infant can develop chicken pox within a few days of birth. These children have an increased chance of developing shingles up to age five.
Compromised Immune System
Young people who have compromised immune systems due to an autoimmune disease are at an increased risk for developing shingles. Some conditions predisposing one to developing shingles are leukemia, lymphoma, cancer or human immunodeficiency virus (HIV).
Chicken Pox
If a young person has had chicken pox, he or she has a chance of developing shingles.
Reoccurence of Shingles
If a young person has had shingles once, it is possible to develop shingles again. Although rare, second or even third cases of shingles have been known to occur.
Prevention
The best prevention for shingles is protection against chicken pox. If a person never develops chicken pox, he will not develop shingles. A vaccination for chicken pox has been available in the United States since 1995.