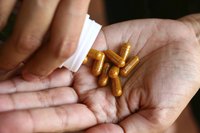 Desiccated liver is a powdered extract usually derived from beef liver. The extract has many potential uses. Consult your doctor before taking desiccated liver if you have a medical condition or are taking medications.
Anemia
Liver extract contains vitamins B-12 and folic acid as well as iron, all of which are commonly used to treat anemia. Use caution if you are taking iron supplements, however, as the combination can cause iron overload. Excess iron increases your risk for liver disease, heart failure and other conditions.
Liver and Muscle Health
Bodybuilders use desiccated liver to enhance muscle development and improve strength and stamina. Other supposed uses for the supplement include improving liver function, detoxifying the liver of chemicals and alleviating symptoms of chronic fatigue syndrome. However, there is insufficient evidence that desiccated liver is effective for any of these uses, according to the Natural Medicines Comprehensive Database.