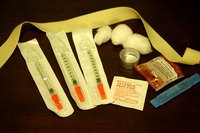 An opiate agonist gives the user the same feeling as would be experienced by an endorphin, which is a natural compound. The receptors in the brain that feel effects from opiates receive the opiate agonist and feel an opioid effect, even though one isn't really happening.
Treatment of Addiction
Opiate agonists are sometimes used to treat opiate addictions. Patients often go through withdrawal symptoms when they stop use of certain drugs, including morphine, methadone, and heroin. Opiate agonists are used to help the patient with withdrawal symptoms without giving the patient the drug to which they are addicted, according to "Federal Regulations of Methadone Treatment," edited by Richard A. Rettig and Adam Yamolinski.
Long-Term Use
In some cases, opiate agonists are used in the long term for patients with chronic opiate addictions.
Federal Guidelines
There are federal guidelines for instances when methadone is used as an opiate agonist. These are defined in the National Addict Treatment Act of 1974. The Act allows short-term treatment (up to 30 days) and long-term treatment (31 to 180 days), as prescribed by authorized clinicians.
Side Effects
Side effects of opiate agonists include constipation, sexual dysfunction, nervousness, and sweating.
Contraindications
Patients with liver conditions should be under close medical supervision when using opiate agonists.