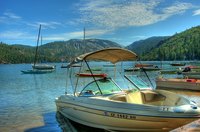 Seasickness is a type of motion sickness that results from a disturbance of inner equilibrium. There are many chemical and natural treatments to prevent and reduce seasickness.
Prevention
Get plenty of sleep the night before you will be on a boat. Avoid drinking large amounts of alcohol, and don't eat greasy or acidic foods. Don't read while you are on a boat, and avoid other people who are seasick.
Over-the-Counter Remedies
Antihistamines, including Bonine (meclizine), Dramamine (dimenhydrinate) and Benadryl (diphenhydramine) are often used to treat seasickness. However, these drugs often cause drowsiness as a side effect.
Prescription Drugs
Phernegan and Transderm Scop are two prescription drugs for seasickness. Phernergan (promethazine) is an antiemetic pill; Transderm Scop (scopolamine) includes a pill and skin patch that is worn behind the ear.
Natural Remedies
Ginger and peppermint are often used as natural remedies for seasickness. A 2000 University of Exeter review of clinical studies reported that 1 gram of ginger can be helpful in reducing nausea.
Other Strategies
Acupressure wristbands may prevent or reduce nausea. Standing up and looking at the horizon may also help. Placing your feet in ice water has also been reported to reduce nausea.