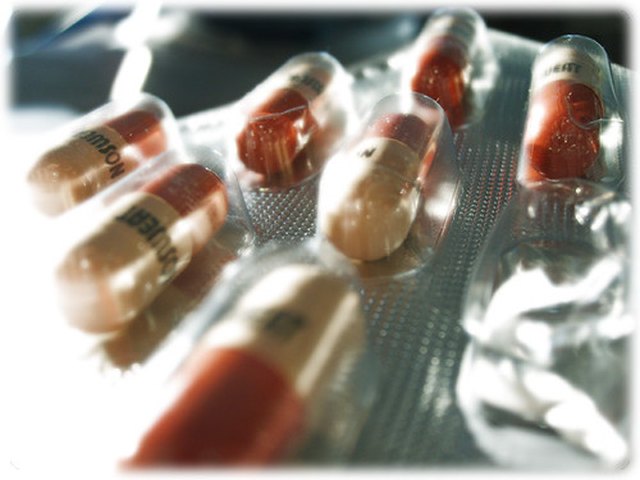 Glucosamine is a popular over-the-counter nutritional supplement used to treat joint pain, especially in the case of osteoarthritis. Glucosamine is sold predominately in two forms, glucosamine sulfate and glucosamine hydrochloride, commonly called Glucosamine HCl.
Types
Glucosamine is available commercially in two common forms, a sulfate and a hydrochloride. There is little difference between the two, as both the sulfate and the hydrochloride are simply stablilizng agents within the molecule. Both are very popular. Glucosamine is derived from the hard shells of shellfish.
Efficacy
Proponents of glucosamine claim that it has a positive effect on joint pain, though this has not been conclusively shown through clinical trials. Stephen Barret, MD, describes any benefit derived from these supplements as "unlikely." For the most part, studies have indicated that glucosamine shows little efficacy beyond what a placebo achieves. However, its popularity and anecdotal reports of effectiveness contrast what these studies have shown.
Misconceptions
Some people get confused by the misrepresentation of Glucosamine HCl as Glucosamine HCL, believing that these are two separate supplements. In reality, spelling the term with a capital L is simply an incorrect way of saying HCl, and they are the same. HCl is a chemical representation of hydrochloride, which is a hydrogen atom attached to a chlorine atom, attached to the glucosamine molecule. HCL taken literally is an impossible molecule, as there is no element represented by the letter L.
Medical Use
Since Glucosamine is not approved by the FDA and does not require a prescription, it is classified as a nutritional supplement and cannot be marketed as curing or treating any disease or condition. Nonetheless, many people use it for for medical reasons, specifically joint pain. In Europe, however, it is approved for medical use and is regulated as such.
Warning
Since glucosamine is derived from shellfish, there are concerns as to whether someone with this allergy can safely take the supplement. Although it is considered to be safe since it is derived from the shells of the animals, not the flesh that contains the allergen, it is wise to consult with a doctor before use.
Warning
The lack of FDA approval means that there are few quality controls on glucosamine supplements, creating the possibility that a product's ingredients are not verified by the government. Though these supplements appear extremely safe, caution should always be exercised in taking any unregulated product that is claimed to treat a medical condition.