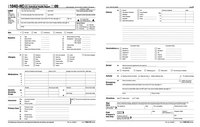 If the IRS has flagged your income-tax return for an audit, take heart: You're not alone. The IRS audited about one percent of returns in fiscal year 2008, 1.4 million audits, according to the agency. If your return is audited, your experience may be very different depending on which type of audit the IRS conducts.
Correspondence audit
The most common type of IRS audit by far is the correspondence audit. In this audit, the IRS will send you a letter asking for receipts or canceled checks that relate to specific deductions or items on your tax return. This is the simplest form of audit, and is often resolved when taxpayers mail the requested documents.

Office audit
In an office audit, the IRS requires you to bring specific documents, receipts, canceled checks and letters to a local IRS office. The agent will examine these documents to determine if they verify or contradict any deductions or figures on your tax returns.

Field audit
The field audit is similar to the office audit. In field audits, though, an IRS agent will come to your business or home. During this audit, usually of businesses, an IRS agent will not only study specific documents, but will also examine facilities, equipment and general business operations.
Should you hire a professional?
During an audit, an IRS agent may ask you several complicated financial questions. You could face serious penalties if you answer these questions incorrectly. That's why many people hire accountants or tax professionals to attend audits with them. These financial pros can take the lead in any type of audit.
The final result
After an audit ends, the IRS agent will--usually within a few weeks to a month--make a report on your tax return. If the IRS disallows a deduction or claims you owe more in tax, the report will include a final proposal for settlement. You can appeal that proposal. If the IRS rejects your appeal, you have the option to take the matter to tax court. As this entails courts costs and attorney fees, it may only makes sense if a substantial sum of money is involved.