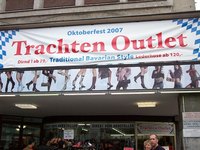 Factory outlet stores are retail establishments that sell merchandise at a discount directly from manufacturers. Many of them are fashion-oriented, but factory outlets also deal in foodstuffs, electronics, gifts and many other items. Such stores can be near factories, but are also located in freestanding locations or outlet malls.
Early Days
Some companies have long maintained stores near their factories to sell excess or less-than-perfect inventory directly to interested local buyers. Harold Alfond, founder of Dexter Shoe Co., is credited with pioneering the idea in the 1970s that factory outlets would do well located away from their factories.
Factory Seconds
At first, outlets traded mainly in discounted "seconds," or "irregular" merchandise that doesn't meet mainstream retail specifications, especially because of cosmetic flaws that otherwise don't impair the goods' usefulness. Outlets still deal in these goods, but most now emphasize overstock.
Overstock
Overstock goods are a manufacturer's highest-quality goods that, for various reasons, haven't sold to wholesalers. Rather than take a complete loss on these items, the manufacturer sells them at a discount at an outlet store.
Like Other Retailers
Factory outlets are now a well-established niche in retailing. Aside from their generally lower prices, outlets function like other retailers by offering their own sales, coupon acceptance, special promotions and so on, though perhaps with a more limited selection.
Online Outlets
Factory outlets have, like standard retailers, also migrated to the World Wide Web.