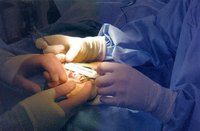 The reason why medical professionals use gloves is to protect medical staff and patients from cross-contamination and germs. Many professionals ponder whether the sterile glove or the non-sterile glove is the best choice. The answer may surprise you.
Cost
Non-sterile gloves are less expensive than sterile gloves; many medical professionals only use sterile gloves when needed to minimize costs.
General Procedures
Non-sterile gloves prevent the contamination of germs. For non-surgical procedures, non-sterile gloves are all that's needed.
Surgery
Non-sterile gloves should not be worn for surgical procedures. Only sterile gloves should be worn during surgery because they prevent the transfer of micro-organisms to an open-wound.
Putting on the Gloves
Non-sterile gloves are simpler to handle than non-sterile gloves. Non-sterile gloves simply require the medical professional to thoroughly wash her hands before putting on the gloves.
There's a more complicated procedure for putting on sterile gloves. The professional must, of course, was his hands. He must then handle the gloves carefully. The finger tips and palm of the glove must not come into contact with any non-sterile surfaces.
Taking off the Gloves
Non-sterile gloves can be piled off and thrown in the trash, while sterile gloves must be removed from the wrist, turned inside and carefully removed.