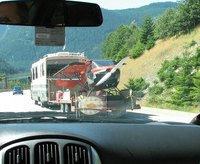 Campers come in all sizes, from small pop-ups to larger RVs. Used for both camping and recreational travel, campers need basic camping supplies and offer the convenience and comfort of home.
Essentials
For emergencies, stock a cell phone, paper, pencil and radio. Have sufficient lighting and a map or GPS, along with a first aid kit, sunscreen, sunglasses and bug repellent.
Supplies
Keep tools for camper repair, plus cleaning supplies and a trash can. For camping, have knives, matches, flashlights or lanterns, extension cords, fans and necessary outdoor recreational gear.
Comfort
Bring pillows, sheets, blankets or sleeping bags. Pack clothing and walking shoes and include a hamper for dirty laundry.
Personal
Pack all essential toiletries, toilet paper, towels and a travel pillow for extra comfort. Have folding racks to dry wet clothes and hang drapes or shades for privacy.
Food
Stock groceries and bring a grill and fuel if needed. Have plenty of cabinets to store kitchen essentials such as utensils, plates, cups, a can opener, pots, pans, aluminum foil, dishwashing soap, a cutting board, paper towels, airtight food containers and oven mitts.
Extras
Folding chairs, tables, camera and film, an alarm clock and a supply of board games aren't necessary, but can come in handy. Televisions and gaming systems can be included in larger RVs. Include essentials needed for pets.