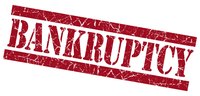 If your debts have become impossible to pay off, you may be able to file bankruptcy to discharge some or all of them. Before voluntarily filing bankruptcy, try to resolve the debt or work with a debt counseling service to find payment solutions that will work on your budget. A bankruptcy is a drastic decision that will stay on your credit report for seven years, making it difficult for you to get loans or even rent an apartment. And if someone has co-signed for any of your debts, she may be held liable for the remaining balance when you file bankruptcy.
Voluntary Bankruptcies
There are two types of voluntary bankruptcy: Chapter 7 and Chapter 13. If you choose a Chapter 7 bankruptcy, you will no longer be responsible for paying your debts. A Chapter 13 bankruptcy creates a payment plan that allows you to keep property and pay your obligations over time. The plan usually lasts three to five years. Tax debts and secured debts such as mortgages and auto loans are typically paid in full before unsecured creditors receive any payments. Unsecured creditors may only receive a portion of the full balance if there is not enough money available to cover all of the debts.
Involuntary Bankruptcy
A creditor may file a claim for involuntary bankruptcy against you with the U.S. Bankruptcy Court. If you fail to respond to the claim within 20 days, the court will declare an involuntary bankruptcy. If you do respond in time, a hearing will take place and the court will determine whether or not you have the financial ability to pay the debt. The court will rule in favor of the creditor if it finds that you were able to pay the debt but chose not to fulfill your obligation.