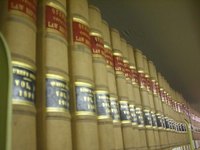 If you are a manager in any business environment, it is very important that you know the basic laws surrounding employment. Chances are you'll have to deal with a situation that is covered by the major laws, so a familiarity with the law is an absolute must in order to avoid in potentially damaging legal issues.
Discrimination
There are numerous laws regarding discrimination during hiring, termination, or in regard to pay. It is illegal to discriminate based on age, sex, national origin or religion. It is also illegal to discriminate against a pregnant person or a person with a disability.
Family and Military Leave
If a worker needs to take time off to have or adopt a child, or care for an ill child, spouse, parent or grandparent, he or she is entitled to time off under the Family and Medical Leave Act. A person who is required to go on a military exercise or volunteers to go must also be re-hired into an equal job provided that he or she returns within five years.
Wages and Overtime
The Fair Labor Standards Act governs the minimum wage, overtime for hourly workers, as well as teenage labor standards.
Safety
The Occupational Safety and Health Act requires that you provide a safe, healthy environment for your workers. This law also says that you must inform employees of any potential safety issues as soon as they are discovered.
Immigration
It is against the law to have illegal aliens working in your business. Plus, you are required to prove residency status.