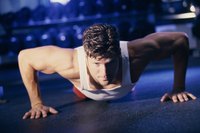 Creatine is in your muscles, where it provides energy to support intense bursts of activity. Based on current research, creatine doesn't affect blood pressure. A related enzyme called creatine kinase has ties with high blood pressure, but you can take creatine without boosting the enzyme. Although experts consider creatine supplements safe, consult your health care provider before taking them if you have kidney disease.
Creatine Sources and Benefits
Meat, poultry and fish naturally contain creatine, but your body also produces it from amino acids. Inside your body, creatine becomes phosphocreatine, which resides in your muscles and stores energy until needed. When you consume more creatine, the amount of phosphocreatine in your muscles goes up until the available storage space is full, reports a review in Sports Medicine in October 2014. Supplemental creatine helps improve muscle performance during high-intensity exercise. It may also help prevent muscle breakdown when you're immobilized due to an injury, according to Iowa State University.
Creatine and Blood Pressure
You may experience some side effects if you take creatine supplements, but a change in blood pressure isn't on the list of potential problems. Concerns have come up over the potential for creatine supplements to cause kidney damage, and kidney disease can lead to high blood pressure. But clinical trials haven't found kidney problems in low-dose supplements taken for up to five years, according to information from Iowa State University. Be aware that taking high doses for a long time may increase stress on your kidneys.
Levels of Creatine Kinase
An enzyme called creatine kinase is necessary to change creatine into phosphocreatine. Exercise temporarily increases blood levels of creatine kinase, and muscle damage or disease results in chronically high levels. Taking creatine supplements doesn't affect creatine kinase, according to a review published in the October 2009 issue of the Brazilian Journal of Pharmaceutical Sciences. High blood pressure has links with an increased amount of creatine kinase, according to a report in the Journal of Hypertension in January 2011.
Other Side Effects
In supplemental form, creatine may cause headaches, diarrhea, gastrointestinal pain and muscle cramps, reports Iowa State University. If you experience gas or an upset stomach, taking two smaller doses instead of one large dose may help you avoid the problem. Supplements may cause muscles to retain water, which could lead to weight gain. The bottom line is that researchers consider creatine supplements safe, but more research is necessary to determine whether they're OK for long-term consumption.