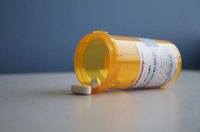 According to the University of Maryland Medical Center, sinus infections are the fifth-most prevalent reason for the use of prescription antibiotics. Cephalosporin medications such as Keflex are often prescribed for treatment; however, Keflex is not the preferred medication to treat sinus infections.
Keflex Facts
Keflex (cephalexin) belongs to the cephalosporin family of medications which offer a broad spectrum of antibiotic protection. It is used to treat bacterial infections, including ear infections; urinary tract infections; upper respiratory infections; and skin infections.
Clinical Findings
A study published in the January 1985 edition of the Southern Medical Journal examined the effectiveness of cephalexin in treating sinusitis. Results indicated 83 percent effectiveness with rare incidence of adverse reactions.
Recent Findings
Available information in 2009 indicates that Keflex is no longer the preferred antibiotic treatment for sinusitis since it is a first-generation cephalosporin medication which does not provide the effective antimicrobial coverage that is needed to eradicate sinusitis.
Newer Treatment Options
According to the Cleveland Clinic, the preferred treatment regimens include a two-week course of amoxicillin or newer cephalosporin medications such as Vantin or Ceftin.
Antibiotic Guidelines
The University of Maryland Medical Center estimates that nearly 80 percent of sinus infections clear up within two weeks with no antibiotic intervention. Antibiotics should only be prescribed for patients at high risk of developing a bacterial infection or for patients with sinusitis that has not resolved on its own.