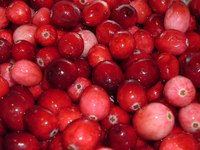 Research in recent years has shown that the unique chemical composition of cranberries can help prevent everything from peptic ulcers to high cholesterol. Cranberry pills can provide a quick dose of the beneficial nutrients and chemicals of the fruit for those who do not want to add whole cranberries to their diet.
Preventing Urinary Tract Infections
The most commonly known benefit of cranberry supplements is that they help prevent urinary tract infections. The reason is that the proanthocyanidins contained in cranberries prevent the adhesion of E. coli bacteria to the urinary tract.
Preventing Peptic Ulcers
Medical studies have shown that the chemical composition of cranberries can prevent the adhesion of H. pylori bacteria to the stomach, making cranberry pills a beneficial way to fight peptic ulcer development.
Fighting High Cholesterol
Many people do not know that cranberries can help improve the health of the heart. The flavonoids in cranberries can inhibit the process of atherosclerosis, where LDL, or "bad cholesterol," accumulates in the arteries.
Anti-Aging
Research has indicated that foods high in phytonutrients, such as cranberries, can prevent the loss of cognitive and motor functions as an individual ages.
Providing Antioxidants
Medical researchers have written that antioxidants, which occur naturally in cranberries, can help prevent certain cancers because of their ability to stabilize free radicals in the body. Studies have also been published indicating that foods high in antioxidants can help prevent heart disease.