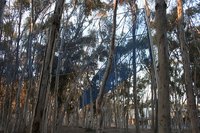 It's common knowledge that Eucalyptus leaves provide the koala with its main food source, but they are also valuable for more than wildlife survival. Eucalyptus leaves have been used for centuries in herbal medicines, and their oils are used in veterinary medicines to treat horses with influenza, as an aide in treating parasitic skin problems and as a treatment for dogs with distemper.
Description
Of the many species of eucalyptus, the blue gum tree is the one most often used in medicines. It grows to a height of 230 feet and has dark green, shiny 4- to 12-inch leaves, a blue gray outer bark and a powerful, distinctive scent.
Aboriginal Treatments
Australia's Aboriginals used eucalyptus leaves in teas to reduce fevers, and they used the oils in topical ointments to aid in healing wounds and fighting fungal infections.
19th-Century Antiseptic
In 19th-century English hospitals, eucalyptus oil was used to clean urinary catheters well before laboratory studies showed that the substance is a strong antibacterial agent.
Expectorant
Eucalyptus oils are used in cough syrups, cough drops and vapor rubs because they are helpful in soothing sore throats and in loosening phlegm, thus easing chest congestion.
Child Precautions
Children under age 6 should not use cough drops or any other oral substance that contains eucalyptus leaves or oil. Use as a salve, chest rub or in steam is acceptable with the exception of eucalyptus oil being applied to the nose or facial area of a child under 2 years of age.
Adult Precautions
Adults should limit their intake of eucalyptus since large doses can irritate the kidneys and even affect normal respiration. Eucalyptus leaf tea should be used no more than three times daily and steam therapy should use no more than 5 to 10 drops of eucalyptus oil to every 2 cups of boiling water.