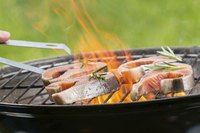 Most people get enough vitamin B-12 in their diet, but actually absorbing it is sometimes a problem. You're at risk for a deficiency if you don't eat animal products, you're over the age of 50 or you have gastrointestinal problems such as Crohn's disease. Vitamin B-12 deficiency is a serious health problem because your body needs it to produce red blood cells, replicate DNA and keep nerves healthy.
Digestion of Vitamin B-12
The digestion and absorption of vitamin B-12 is more complex than other vitamins. When you get vitamin B-12 from food, it's naturally bound to protein. During digestion, hydrochloric acid and enzymes in your stomach separate the vitamin from the original protein. Then it attaches to another protein that carries it into the intestine.
Once vitamin B-12 enters your small intestine, it must be separated from its protein, then reattached to another protein, intrinsic factor. Vitamin B-12 can only be absorbed into your bloodstream when it's bound to intrinsic factor.
Absorption Problems
About 20 percent to 30 percent of all adults over the age of 50 have a hard time absorbing vitamin B-12 from food due to low levels of stomach acid, according to a report in "Practical Gastroenterology" in January 2009. Lack of stomach acid is most commonly caused by atrophic gastritis, which is an inflammation of the stomach.
Surgery of the stomach or intestines can cause low levels of stomach acid and intrinsic factor. Inflammation of the intestine caused by Crohn's disease or celiac disease may also interfere with the vitamin's absorption. You can help prevent malabsorption problems by taking supplements because they don't need stomach acid or intrinsic factor to be absorbed.
Vegetarian Diet
Vitamin B-12 is produced by bacteria in animals, so you'll only get it from animal-based foods. If you follow a diet that eliminates all animal products, including eggs, milk and dairy foods, you're at risk for developing a deficiency.
You won't get vitamin B-12 from seaweed and tempeh unless they're fortified, reports Vegan Health. While seaweeds contain vitamin B-12, they have an inactive form of the vitamin that your body can't use, according to a review in the "Journal of Agricultural and Food Chemistry" in June 2013. Vegans can get vitamin B-12 through fortified foods, such as cereals and grains, or by taking supplements.
Intake Recommendations and Deficiency Symptoms
The Institute of Medicine recommends that adults should consume 2.4 micrograms of vitamin B-12 daily. While all types of fish, lean meat, poultry, eggs and dairy products provide vitamin B-12, some of the best sources are clams, beef liver, trout, salmon, haddock, canned light tuna and lean beef. Fortified cereals supply 25 percent to 100 percent of the daily value based on consuming 2,000 calories daily.
Loss of memory, confusion and tingling in the arms and legs are neurological signs of a deficiency. Other symptoms include fatigue, weakness and weight loss caused by anemia. If you have any concerns about your intake or health status, don't wait to consult your health care provider. Nerve damage may be permanent if you don't treat a deficiency early.