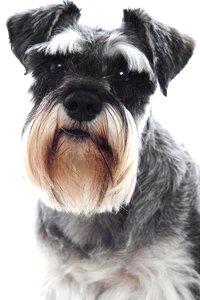 If your dog develops a wart, what's growing on his body is technically a viral papilloma. Such growths, caused by the papillomavirus, are usually harmless; they usually eventually go away. But it's important to have your vet take a look at any growth or lump you find on your dog. Certain malignant skin tumors and warts look very much alike, so have your pet checked out.
Skin Papillomas
Papillomas vary in size and appearance. Many appear as single warts, some grow in groups. Many are round and raised, but they can also be flat. They can show up anywhere on the body, but the mouth, face, eyelids and feet are the most common locations. Some growths resemble cauliflower or sport fronds like sea anemones. Most warts are gray or white, but they can be darker or contain multiple pigments.
Papilloma Transmission
Papillomavirus spreads via contact with an infected canine or contact with the virus in an infected dog's living space. The virus enters a dog through an existing skin disturbance, such as a lesion, bug bite or scratch. It can take up to two months after exposure for the papilloma to appear, so figuring out where your dog was exposed is difficult. While humans and felines also contract the papillomavirus, each virus is species specific. You won't get warts from your dog, and he won't get warts from you.
Oral Papillomas
Warts in a dog's mouth or throat are oral papillomas. Puppies and young canines are more likely to suffer from oral papillomas than older dogs. These growths usually disappear without treatment within one to five months. That means the dog's immune system has matured enough to fight off the papillomavirus, and it's unlikely they will ever return. Most oral papillomas don't require treatment, but if multiple warts develop in an area that affects a dog's chewing or swallowing, or they otherwise cause discomfort, your vet can surgically remove them.
Papilloma Treatment
If a papilloma is located in an area where the dog can bite it, he may do so and end up with an infected lesion. Occasionally, a papilloma doesn't disappear, and you might want it removed for cosmetic purposes. Your vet can remove these warts surgically, either with a standard excision or via laser. She can also freeze them off. The antibiotic azithromycin, prescribed for 10 days, often causes papillomas to disappear.