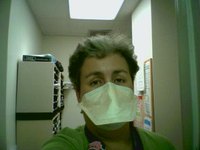 Acute nursing care is short-term nursing care for medical patients with acute or chronic diseases and for surgical patients requiring operations.
Types
An acute care nurse may be employed to care for patients sorted by type of treatment (such as those undergoing surgery), a specific health condition (such as cancer), a body system (such as the heart and circulatory system) or a well-defined population, such as older adults.
Settings
An acute care nurse might work on a general unit known as a "med-surg floor" (the "g" is pronounced like "j") or on a specialty med-surg unit, such as neurosurgery.
Responsibilities
Regardless of where he is assigned, an acute care nurse will assess his patient to find out what's wrong (e.g., vomiting from influenza), make a nursing diagnosis (e.g., deficient fluid volume), plan care (e.g., encourage oral and IV fluids), provide care (e.g., administer IV) and evaluate the outcome (e.g., normal fluid volume).
Considerations
While medical-surgical nursing units have long been considered a training ground for other nursing specialties, many nurses choose to spend their entire careers as acute care nurses.
Salary
According to the Bureau of Labor Statistics, as of 2006, acute care nurses in the U.S. earned an average salary of $58,550 a year.