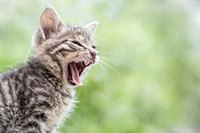 The feline herpesvirus is a highly contagious disease that affects cats of all ages and can recur later in life. This disease, which is passed through direct and indirect contact with another cat's bodily fluids, causes a variety of symptoms, most of which are flu-like in nature. If you notice any of these symptoms, get your cat to the vet to confirm that the herpesvirus is the cause.
The Feline Herpesvirus
The feline herpesvirus is passed through your kitty's saliva, nasal discharge and other bodily fluids. A simple cat sneeze can pass the virus through the air. This disease is most common in shelters and high-stress environments. Cats with the virus may become lethargic, develop a fever or generally become depressed, according to the American Society for the Prevention of Cruelty to Animals. Your vet can determine if your kitty is suffering from the virus by evaluating her symptoms and by running a series of tests. While there is no cure for this disease, most cases are generally mild and your kitty will recover within a few weeks in a calm, low-stress environment. Antiviral medications or supplements such as lysine can speed the recovery process and ease your kitty's symptoms.
Respiratory Symptoms
Cats with the herpesvirus may develop an upper respiratory infection, which can cause several symptoms including bouts of sneezing, clear or discolored nasal discharge and nasal congestion. These symptoms also may lead to more serious complications such as weight loss or a lack of appetite because most kitties won't eat if they can't smell their food. If you notice any signs of respiratory distress in your cat, get her to the vet right away, as secondary bacterial infections can develop from herpesvirus infections, which could require treatment with antibiotics. While she is recovering from her respiratory symptoms, use a vaporizer or humidifier to help alleviate her respiratory symptoms and make breathing easier.
Eye Issues
The feline herpesvirus can cause an eye infection called conjunctivitis in your cat. Conjunctivitis causes the reddening and irritation of your kitty's eyelids and the tissues of her eyes themselves. If you notice that your feline friend is squinting or that one or both of your feline friend's eyes are red, irritated or swollen, she may have the herpesvirus, according to the Tree House Humane Society. You may see a yellowish-green discharge coming from her eyes. Your vet will need to examine your feline friend to determine the cause of her eye issues and may prescribe prescription eyedrops, especially if a secondary infection develops.
Cold Sores
Cold sores are red blister-like lesions that may form in and around your kitty's mouth or eyes if she's suffering from the virus. These lesions can even form on her corneas, causing the eyes to tear excessively. If left untreated, these sores can cause vision problems, permanent scarring of the cornea or even corneal rupture, according to the Veterinary Medical Center of Long Island. The sores are painful and can become infected with bacteria. Your vet may prescribe antiviral or antibacterial eyedrops and creams to treat these lesions and treat any secondary bacterial infections that develop from them.