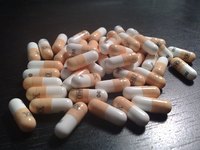 Zoloft (sertraline) and MAO Inhibitors (also called MAOIs or monoamine oxidase inhibitors) are in two different classes of medications used to treat mental illnesses. According to the Mayo Clinic, MAOI medications were the first antidepressants to be used, dating back to the 1950's.
MAOI Facts
MAOI medications such as isocarboxazid, selegiline, tranylcypromine or phenelzine work by inhibiting monoamine oxidase (an enzyme) from affecting your norepinephrine, dopamine and serotonin levels. This enables these neurotransmitters to remain at high levels in your brain; thus, elevating your mood.
Zoloft Facts
Zoloft belongs to a family of medications known as SSRIs (serotonin reuptake inhibitors) which inhibit the reabsorption of serotonin in your brain; thus, resulting in higher serotonin levels and improved mood.
Usage
MAOIs are prescribed, often when other anti-depressants have failed, to treat depression. Zoloft may be prescribed for a variety of conditions, including depression, anxiety disorders, PTSD (post-traumatic stress disorder), PMDD (premenstrual dysphoric disorder) and OCD (obsessive compulsive disorder).
MAOI Side Effects
Side effects include upset stomach, constipation, diarrhea, nausea, drowsiness, hypotension (low blood pressure), dizziness, dry mouth, weight gain, increase in appetite, muscle twitches, sleep problems, diminished urination, fatigue, weakness, restlessness, shaking/trembling and increased perspiration.
Zoloft Side Effects
Side effects include insomnia, altered appetite, sleepiness, dizziness, constipation, abdominal discomfort, dry mouth, low sex drive and sexual dysfunction.
Warning
Both antidepressants may pose a risk of serious side effects. MAOIs may interact with foods, beverages and other medications (including some over-the-counter meds and vitamins). Talk to your doctor about all of your limitations to avoid a potentially serious interaction. Zoloft may cause suicidal thoughts, especially in young adults and children.