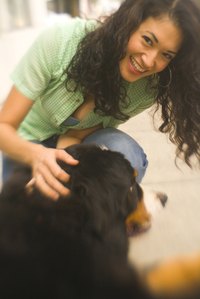 Loratadine is the generic form of Claritin, an antihistamine drug intended for humans that also relieves allergies in dogs. Loratadine combats excess histamines created by a dog's body in response to allergen exposure. Loratadine should be only be used under veterinary supervision, as individual responses to the drug can vary.
How and When to Use Loratadine for Dogs
Loratadine relieves symptoms of skin and food allergies as well as allergic reactions to insect and snakebites. Verify the correct dosage of loratadine with your vet before medicating your dog. In general, the correct dosage is 0.2 milligrams in tablet form per pound; give 5 milligrams per 24 hours to small and medium sized dogs or 10 milligrams to a large dog.
Loratadine can help control chronic redness, scratching and licking caused by allergic dermatitis. Although its manufacturer states that loratadine is generally free of side effects and is a nondrowsy medication, it can cause drowsiness in some dogs. Contact your vet immediately if your dog shows respiratory distress, as severe allergic reactions can obstruct your dog's breathing. Dogs with kidney or liver disease or pregnant and lactating dogs should not be given loratadine. Do not use loratadine that contains decongestant medication such as pseudoephedrine, which can harm dogs.