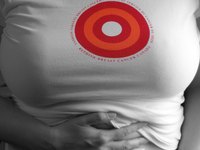 Breast tenderness is a common cause of discomfort among women, especially women who are lactating, although men may rarely develop symptoms. Fortunately, the symptoms of breast tenderness usually resolve within a few days, although home care or medical treatments may be necessary for symptoms.
Types
Tender breasts may feel sore and warm to the touch; appear swollen or lumpy; have discoloration including bruises or red streaks; or feel unusually sensitive.
Identification
People may notice tenderness in the breast when getting dressed or during physical activity; women who are nursing a baby may notice tenderness during a breastfeeding session.
Causes
Women who are breastfeeding may have tenderness from a poor latch, thrush, a plugged duct or a breast infection; other causes of tender breast symptoms include poor-fitting clothing; premenstrual syndrome; chest injuries; cysts; and tumors of the breast.
Effects
Breast tenderness may cause a woman to shorten breastfeeding sessions or wean prematurely; tenderness may also cause discomfort and difficulty sleeping at night.
Considerations
Women who are nursing and have breast tenderness that persists or gets worse should continue nursing but seek evaluation from a doctor or lactation consultant to prevent a decrease in milk supply.
Prevention/Solution
Applying a warm, moist compress to the tender area and taking pain relievers as recommended by the doctor can reduce pain, and regularly nursing from both breasts can reduce tenderness caused by lactation.