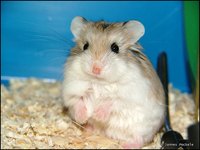 Dwarf hamsters get their name because they are noticeably smaller than the first species of hamster to be domesticated, the Syrian or golden hamster. Dwarf hamsters became popular pets after they were introduced to the pet market in the 1970s.
Types
The four types of pet dwarf hamsters are the Russian (Campbell's), winter white, Chinese and Roborovski. These types should never be mixed in the same cage, as they will fight.
Temperament
According to veterinarian Sharon Vanderlip, Chinese dwarf hamsters do not get along and should be kept alone. But all other dwarf hamster species can live in small colonies.
Life Span
Chinese dwarf hamsters live two to three years. Roborovskis can live three and a half years while the other two types live an average of one to two years.
Illness
According to Hamsterific.com, dwarf hamsters are far more susceptible to diabetes than larger pet hamsters. Otherwise, dwarf hamsters are just as healthy as Syrian hamsters.
Considerations
Dwarf hamsters cannot live in barred cages made for Syrian hamsters because they are small enough to escape by slipping between the bars.