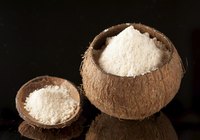 Whether you have an allergy to gluten or you're trying to limit your carb intake, you may want to consider coconut flour. Made from the meat of the tropical nut, coconut flour is lower in carbs than grain-based flours and is high in fiber. Knowing the nutrition facts about coconut flour may convince you to give it a try.
A Look at Calories
Compared to other gluten-free flours, coconut flour makes a lower-calorie choice. A 1/4-cup serving of the nutty flour contains 120 calories, while the same serving of teff and brown rice flour contains 150 calories and 140 calories per serving, respectively.
If you're trying to limit calories on your gluten-free diet, using coconut flour in place of other gluten-free flours may help you in your efforts. Use it instead of other flours as the coating for your baked breaded fish or chicken dish.
Low Carb, High Fiber, Some Protein
Coconut flour has about half the amount of carbs as other gluten-free flours, with 16 grams of carbs per 1/4-cup serving, compared to about 30 grams in the same serving of teff or brown rice flour. It also has about the same amount of protein, with 4 grams per serving, compared to 5 grams of protein in teff flour and 3 grams of protein in brown rice flour.
If you're trying to add more fiber to your diet, coconut flour may be the way to go. A 1/4-cup serving of coconut flour contains 10 grams of fiber vs. 5 grams in teff flour and 2 grams in brown rice flour in the same serving. The Dietary Guidelines for Americans, 2010 suggests you aim for 14 grams of fiber for every 1,000 calories you eat, which translates into about 25 grams for women and 38 grams for men. Getting more fiber in your diet may lower your risk of heart disease, obesity and type-2 diabetes, the guidelines go on to say.
Watch the Saturated Fat
While coconut flour may be a good source of fiber, it's also a source of saturated fat. A 1/4-cup serving contains 4 grams of total fat and 4 grams of saturated fat. The saturated fat in the coconut flour is chemically different than the saturated fat in bacon, and while it does increase your bad cholesterol levels, the fat also increases your good cholesterol levels.
Even though the saturated fat in coconut flour offers some benefits, however, you should still limit your intake. The American Heart Association suggests limiting saturated fat intake to 5 percent to 6 percent of calories, or no more than 13 grams on a 2,000-calorie diet.
Blood-Building Flour
Coconut flour is also an excellent source of iron, meeting 20 percent of the daily value. Women of childbearing age and teen girls often don't get enough iron in their diets, according to the dietary guidelines. Adding iron-rich foods to your diet, such as coconut flour, can boost your intake and help you meet your needs. Combine the flour with foods rich in vitamin C, such as steamed broccoli with your breaded chicken or fish, to boost iron absorption.