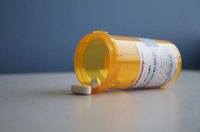 In recent years there has been growing speculation that women with herpes who are menopausal experience a higher-than-usual occurrence of outbreaks.
Empirical Data
To date, no large-scale study of the potential link between menopause and herpes outbreaks has been conducted. However, studies have shown that the rate of herpes contraction in older adults has increased in the past decade.
More Partners in Midlife
As the rate of midlife divorce increases, more older adults are becoming sexually active with more than one partner, which increases the rate of herpes infection in this age group. Mike Remington, physician's assistant at the University of Washington Herpes Virus Center in Seattle, believes this trend could account for the larger number of older women noticing an apparent link between herpes outbreaks and menopause.
Menopause and Stress
The link between stress and an increased frequency of herpes outbreaks has been well documented. Menopause can be a stressful experience for a woman and thus lead to more outbreaks.
Other Midlife Stress Factors
Midlife can bring many stressors, including divorce, children leaving home, a new career or a job loss. Any of these or other stress factors can increase the likelihood of a herpes outbreak.
Medical Treatment
A woman infected with herpes can safely continue to control her symptoms medically throughout menopause. "There are no adverse effects in continuing to take herpes medications such as acyclovir and Valtrex during menopause," Remington said. "If you have break-through reoccurrences with your current medication, then you may want to see your doctor and boost your dosage."