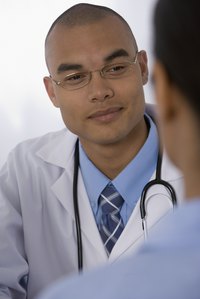 Turkey rhubarb -- also known by its scientific name Rheum palmatum -- belongs to the same family of plants as the rhubarb commonly used in pies, dessert sauces and chutneys, but turkey rhubarb is more often consumed in supplement form. It's played a role in traditional Chinese medicine since ancient times, but more scientific research is needed before it can be approved as a safe, effective treatment for any health problem. Pregnant women should never use any supplement containing turkey rhubarb, and no one should attempt to self-treat with this or any other supplement.
Possibly Promotes Bowel Regularity
Typical commercial brands of turkey rhubarb supplements are advertised as natural laxatives that promote intestinal health and aid in bowel regularity. That's because rhubarb is rich in compounds that increase the intestinal contractions leading to bowel movements. These compounds include emodin, sennosides and anthraquinones. In one study published in 2007 in the American Journal of Chinese Medicine, researchers demonstrated that rhubarb supplementation maintained normal digestive system functions in patients with septicemia, or blood poisoning, and helped eliminate bacteria and toxins from the body. Don't attempt to self-treat a digestive disorder with turkey rhubarb, especially if you have severe symptoms.
Potential Treatment for Menopause Symptoms
All types of rhubarb, including turkey rhubarb, contain lindleyin, a compound that mimics the behavior of estrogen. Scientists experimented with lindleyin's effect on women going through the beginning stages of menopause by giving 109 subjects rhubarb extract daily for 12 weeks. Their results, which were published in 2006 in Menopause, suggested rhubarb supplementation may substantially lower the symptoms of menopause, including hot flashes and unusual spotting. It's not yet known if it is safe to take rhubarb for long periods of time, how much can be consumed without harm or whether an extract of turkey rhubarb alone would have the same effect.
May Lower Cholesterol
Rhubarb contains two substances that may help lower cholesterol: dietary fiber and galloyl esters. One theory about how fiber -- especially soluble fiber -- works is that it may interfere with bile acid reabsorption, allowing bile acids to be excreted. Then the body uses blood cholesterol to make more bile acids to replace what was lost. Galloyl esters may inhibit an enzyme also needed for cholesterol production. While most studies on rhubarb supplementation and cholesterol levels have been conducted on laboratory animals, a few, including one published in the American Journal of Chinese Medicine in 2007, have shown that rhubarb can lower LDL, or "bad," cholesterol levels in humans.
Might Inhibit Tumor Growth
In addition to being a natural laxative, the emodin found in rhubarb plants like turkey rhubarb may inhibit tumor cells from growing and metastasizing and may even trigger apoptosis, or programmed cell death, in cancerous cells. These results, which were summarized in a Medicinal Research Reviews article published in 2007, led the authors to conclude that emodin might be effective for treating cancer when used in conjunction with other methods. Clinical trials in humans are needed. In addition, it's not known if all types of rhubarb extracts exhibit the same anti-cancer properties.