With its cooling flavor, peppermint tea -- made by steeping a teaspoon of dried peppermint leaves or a peppermint tea bag for 10 minutes in a cup of boiling water -- is a refreshing way to cap your day. It's safe for most people to drink in relatively large amounts, according to the University of Maryland Medical Center, and offers several potential health benefits.
Check with your doctor before drinking a lot of peppermint tea, as it can interact with some medications. Don't use it in place of medical treatment.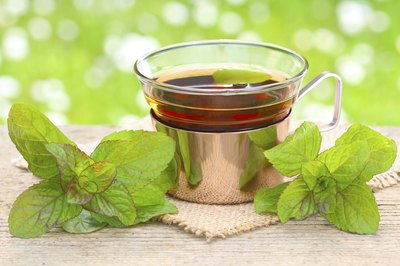 Digestive Benefits
Peppermint tea is often used as a digestive aid, as it helps relax the muscles in your stomach and may also increase the flow of bile and thus the digestion of fats. Some research also points to potential benefits for peppermint in the treatment of irritable bowel syndrome, but the results are still preliminary and conflicting, and they come from studies using coated peppermint tablets, not tea.
If you suffer from gastroesophageal reflux, however, you shouldn't drink peppermint tea, as it may make this condition worse. Peppermint can help make it easier to pass gas, thereby limiting bloating.
Antioxidant Content
Peppermint tea is high in antioxidants, providing up to 182 milligrams of polyphenols -- a class of antioxidants -- in each cup of tea, according to a study published in the Journal of Agricultural and Food Chemistry in 2007. Antioxidants help prevent damage to cells from compounds called free radicals, thus potentially lowering heart disease and cancer risk.
Peppermint tea doesn't offer as many antioxidants as green, black, rosemary, persimmon leaf or mate teas, however. To boost its antioxidant potential, try steeping peppermint tea with green or black tea.
Other Potential Benefits
Drinking herbal teas, such as peppermint tea, may help limit the growth of cavity-causing bacteria in your mouth, potentially improving dental health, according to a study published in Food Control in June 2013. The authors of this study also noted that the herbal teas tested had an anti-bacterial effect.
A review article published in the Research Journal of Medicinal Plant in 2012 noted that peppermint can sometimes have a calming effect, can help limit anxiety and may be soothing for sore throats and coughs.
Risks and Considerations
People with kidney stones or hiatal hernia may want to avoid drinking peppermint tea, according to a review article published in Phytotherapy Research in August 2006. Peppermint may make gallstones worse and can interact with medications including antacids, the immune suppressant cyclosporine, diabetes medications and blood pressure medications.