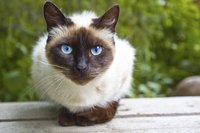 Cancer of the lymphatic system -- a network of vessels, glands and tissues that circulate a fluid rich in infection-fighting white blood cells -- is among the most common feline malignancies. Known as lymphoma, this disease can affect any organ, with symptoms depending on what system of the body is involved. Though not considered a curable disease, generally, the earlier a lymphoma diagnosis is made, the better the prognosis. Take your cat to a veterinarian right away if he shows any symptoms consistent with lymphoma.
Multicentric Lymphoma
Feline lymphoma is considered multicentric when it involves mainly a cat's lymph nodes, which are small organs throughout the body that contain white blood cells known as lymphocytes. In cats with multicentric lymphoma, lymph nodes typically become enlarged. Lymph nodes close to the surface of the body, such as those in the cat's groin area and around the jaw, may feel swollen to the touch. Your cat may stop eating and lose weight. Multicentric lymphoma is one of several forms of this cancer associated with the feline leukemia virus.
Mediastinal Lymphoma
Mediastinal lymphoma affects lymph nodes and organs in the chest cavity and can cause fluid accumulation. Consequently, a cat suffering from this form of this disease may cough and struggle to breathe. Weight loss and a reduced appetite also are associated with mediastinal lymphoma. As with multicentric lymphoma, the risk of the mediastinal form of the disease is greater in cats who are infected with the feline leukemia virus.
Alimentary Lymphoma
When lymphoma involves the lymph nodes and organs of the digestive tract, it is categorized as alimentary or gastrointestinal. As the prevalence of cats infected with feline leukemia virus has decreased, the alimentary form has surpassed the mediastinal and multicentric types as the most common lymphoma in cats. Depending on whether the stomach or the intestines are involved, this form of the disease may cause diarrhea or constipation, loss of appetite, vomiting and weight loss. You may be see blood in your cat's stool or she may vomit.
Renal Lymphoma
Lymphoma is the most common cause of kidney tumors in cats. Known as renal lymphoma, this type of cancer may result in increased thirst and urination, but a decreased appetite. Like other kidney tumors in cats, renal lymphoma may cause abdominal pain and bloody urine.
Spinal Lymphoma
When lymphoma affects the spinal cord, it can cause partial or complete paralysis of your cat's limbs. The hind limbs are usually the first to become afflicted. The risk of spinal lymphoma is greater in cats who are infected with the feline leukemia virus.