Pregnancy tests for dogs include blood tests, ultrasounds, X-rays and old-fashioned finger work. No available test on the market today allows a vet to confirm a canine pregnancy earlier than day 22, roughly one-third of the way through the average 63-day gestation period. Don't try using a human pregnancy test on your pet. Tests designed for people don't work on dogs.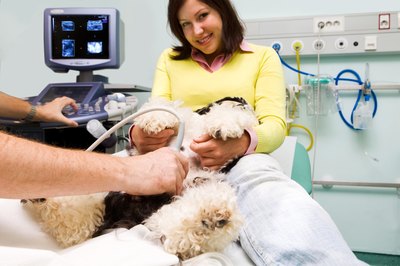 Pregnancy Blood Testing
With a kit available only to veterinarians, your vet can take a blood sample from your dog and tell you within 10 minutes whether she tested positive for pregnancy. The test measures levels of relaxin, a hormone produced by the placenta in a pregnant dog. Relaxin levels should be measurable by about day 22.
A positive test means the dog is pregnant, but a negative test doesn't necessarily mean she isn't. If the test is negative, it's advisable to have it done again one week later. That's especially true if you aren't sure exactly when your dog mated. A positive test, meanwhile, doesn't mean your dog will carry the pregnancy to term.
Veterinary Palpation
In the days before blood testing and other diagnostic materials were available, veterinarians -- or experienced laypeople -- determined whether a dog was pregnant by abdominal palpation. It's still useful today as one of the earlier indications that a dog is expecting. Your vet can perform a palpation and feel the small swellings that develop into fetuses at about the third week post-ovulation. However, other conditions, including uterine infection, can cause the uterus to enlarge and feel like a pregnant uterus to the touch. It's harder for a vet to accurately palpate an overweight dog, a big dog or one who's quite tense during the examination.
Ultrasounds for Pregnancy Detection
Your vet can perform an abdominal ultrasound on your dog in the third week after breeding to determine pregnancy, but this methodology is more reliable about day 30. At that point, the machine can pick up fetal heartbeats. It isn't accurate for determining the number of puppies. An ultrasound is also more stressful for the dog, as she must be placed on her back for the testing and must have her belly shaved. Gel applied to her abdomen facilitates conductivityand movement of the ultrasound probe.
X-Rays Tell the Tails
At about the sixth week of pregnancy, or day 42, a vet can perform an X-ray to determine the number of puppies you can expect. Prior to that time, a radiograph of the pregnant and nonpregnant uterus doesn't give definitive information. By week six, the fetal skeletons mineralize, and an X-ray can pick them up.
Initially, the spines and skulls are visible, and your vet can count them to estimate the number of puppies. In another week or so, the front and rear legs will appear on X-ray. While veterinary puppy counts are generally accurate, it's always possible a fetus or two is hidden by a littermate in an X-ray.