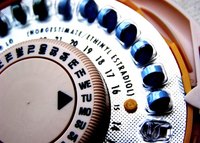 The morning after pill or emergency contraception is a popular method of preventing pregnancy after unprotected sex or birth control fails. In some countries, including the U.S. and U.K., you can purchase the morning after pill from pharmacies without a prescription.
Identification
The morning after pill comes in two forms: combinations of two hormones, estrogen and progestin; and a single hormone, levonorgestrel, a synthetic form of progesterone. The U.S. product Plan B and the U.K. product Levonelle both contain levonorgestrel, and are up to 99 percent effective when taken within 24 hours of intercourse.
Function
The morning after pill works by preventing ovulation, and thus preventing pregnancy. If you take it after ovulation, it may also prevent a fertilized egg from implanting in the uterus.
Short-term Effects
Because the morning after pill interferes with ovulation, it temporarily disrupts your fertility during the cycle in which you take it. If you are not taking regular birth control, your fertility will return to normal after your next period.
Long-term Effects
According to the manufacturers of Plan B and Levonelle, emergency contraception does not impact your future fertility. However, according to research printed in The Daily Mail, if you take EC on a regular basis, it may be more difficult for you to conceive. Levonorgestrel is synthetic progesterone, which can cause mucus in the womb to thicken, making it more difficult for sperm to enter.
Protecting Your Fertility
You can reduce any potential impact on your fertility by only taking emergency contraception in emergencies and limiting its use to once or twice a year. Manufacturers of Levonelle also recommend taking it no more than once per menstrual cycle.