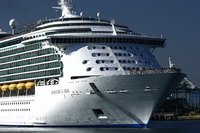 Cruising combines port city tours, gourmet food, high-quality entertainment and luxury accommodations. Cruise ships can have upward of 14 deck levels, and each level has its benefits and drawbacks.
Significance
The cabin is your home away from home on a cruise ship. Although the cabin is mainly only a place to sleep, location can greatly enhance or detract from the vacation experience.
Deck Plans
Cruise ships' deck plans are often similar, with pools, walking trails and sun decks at the highest level of the ship. The main restaurants, discos and shops are usually on the bottom decks.
Benefits
Upper decks provide the least rocking. They are close to the buffet and pool. Cabins on the lower deck levels get quicker access to disembarkation because all travelers must exit from the bottom of the ship.
Considerations
The lower the deck level, the closer to sea level (and sea sickness). But an upper deck cabin, especially one close to the main buffet or pool, can be noisy. Lower level cabins run the risk of being underneath popular walkways so there might be noise overhead.
Fun Fact
Cruise ship room prices are not charged by deck level but by room type (interior, ocean view, balcony), so choose what would best satisfy your sensibilities.