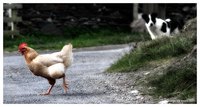 Chicken liver may not always bring delightful dining to mind, but it has many healthy benefits. It also has a major drawback. A single ounce contains more than half the recommended daily intake of cholesterol, based on a 2,000-calorie diet.
Negative
The biggest problem with chicken liver is its high cholesterol content. A 1-ounce serving packs in 158 milligrams of cholesterol, 53 percent of the recommended daily intake and even higher than eggs (100 milligrams per ounce).
Calories
The calorie count of chicken liver is fairly low: 47 calories for a 1-ounce serving. Sixteen of the calories are from fat.
Sodium
Low sodium is a great benefit of chicken liver--1 ounce contains only 21 milligrams, just 1 percent of the daily recommended intake
Vitamins and Minerals
Chicken liver is loaded with vitamins and minerals, including vitamins A, C, B-6 and B-12 as well as iron, copper, thiamin, manganese, niacin, riboflavin and zinc.
Protein
An ounce of chicken liver contains a hearty 7 grams of protein and only 2 grams of fat. The fat content is about 2 percent the recommended daily intake based on the 2,000 calorie diet; recommended protein intake is based on an individual's weight.