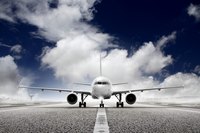 Seeing an airline crash on the news can be scary, but flying remains one of the safest ways to travel. In 2012, 3.75 million commercial planes flew safely, while carrying almost 3 billion people. And, U.S. airlines are heavily regulated for safety. The chances of an incident are infinitesimal, and driving remains more dangerous than flying. Despite stellar records, U.S.-based airlines are still ranked for safety.
A Matter of Perspective
According to the Jet Airliner Crash Data Evaluation Center, JetBlue ranks as the safest U.S.-based air carrier, as of publication. Southwest, Delta, United and American Airlines round out the top five in U.S. safety ratings. But the rankings look a bit different from a worldwide perspective, with JetBlue ranking 16th overall and American Airlines ranking 41st. And, Airlinerating.com did not name a single U.S. carrier to the top ten list of safest airlines in the world. Again, it is all a matter of perspective -- JetBlue and Southwest have never suffered an accident-related fatality.