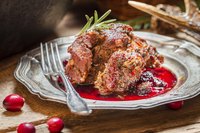 Deer meat, or venison, can be a healthy alternative to beef or pork. It provides more riboflavin, niacin, iron and copper per serving but has fewer calories and less total and saturated fat. It isn't low in cholesterol, however. That designation would require it to provide less than 20 milligrams of cholesterol per serving.
Venison and Cholesterol
A 3.5-ounce serving of roasted venison contains 112 milligrams of cholesterol, or 37 percent of the daily value. In comparison, the same amount of beef with the visible fat trimmed off contains 86 milligrams of cholesterol, and the same amount of broiled pork loin has 79 milligrams of cholesterol. This doesn't mean that venison will necessarily have a greater effect on your cholesterol levels because dietary cholesterol only has a slight effect on blood cholesterol levels. Saturated and total fat intake have a much greater effect on cholesterol levels. Venison has just 3.2 grams of fat, including 1.25 grams of saturated fat, per serving. Beef has 10.2 grams of fat and 3.9 grams of saturated fat, and pork has 9.8 grams of fat and 3.6 grams of saturated fat per serving, making them more likely to affect your cholesterol.