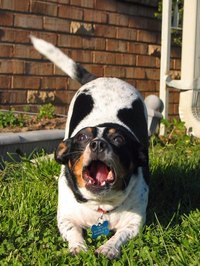 St. John's wort, known scientifically as Hypericum perforatum, has been used by since ancient times for conditions such as depression, anxiety and other mental health issues. It is now being used to treat some behavioral problems in pets.
Types
St. John's wort has been used to treat dogs for obsessive-compulsive disorders, acral lick dermatitis, separation anxiety and aggression.
Reliability
According to veterinarian Shawn Messonnier, writing for Glenbrook Farms, the use of St. John's Wort to treat dog has been proven clinically.
Time Frame
Little research is available regarding the use of St. John's wort in dogs. Because it takes two to four weeks for humans to see improvement after beginning use of the herb, you should expect your dog to show improvement in about the same time frame.
Considerations
You may want to limit your dog's exposure to sunlight while your he is taking St. John's wort. The herb has been known to cause sensitivity to light in livestock and to trigger cataract formation in people exposed to bright light.
Warnings
Do not combine St. John's wort with other medications your dog is taking for behavioral issues unless directed by your veterinarian. Do not begin giving your dog St. John's wort without discussing the addition of the herbal supplement with your veterinarian.