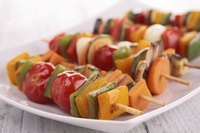 Vitamin B-12 deficiency is widespread among vegetarians. According to a review published in Nutrition Reviews in February 2013, vegans, who abstain from all animal products, and people who have been vegetarians since birth have even higher risk. That's because animal foods are the richest sources of B-12, and so few plant foods naturally contain vitamin B-12. The stricter the vegetarian diet you follow, the more likely you are to be deficient. If you are unable to get enough B-12 through your diet, talk to your doctor about taking a supplement to prevent a deficiency.
Daily B-12 Needs and Sources
The recommended daily intake for adults for vitamin B-12 is 2.4 micrograms. That's about the amount in 3 ounces of salmon, six large poached eggs or about two and a half glasses of milk. If your diet includes fish, dairy or eggs, it's easier to meet your B-12 needs. Some of the richest B-12 sources are shellfish, including clams and mussels, with 84 and 20 micrograms per 3-ounce serving, respectively.
Vegans have to work harder to get enough B-12, but it is possible. Nutritional yeast, which is a food yeast grown on a molasses solution, provides well over 100 percent of the dietary reference intake for B-12. With its cheesy flavor, it can be stirred into soups and sprinkled over salads and even popcorn.
Other dietary options for B-12 are fortified foods such as cereals, juices and dairy alternatives such as soy and almond milk. Recent experiments show that other plant foods, including fermented beans, edible algae and mushrooms, are significant sources of B-12, but their reliability as consistent sources is still in question, Linus Pauling Institute reports.