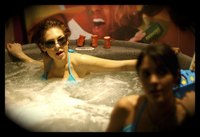 There's nothing more relaxing than taking a dip in a Jacuzzi or whirlpool tub. While there are many similarities between the two, a Jacuzzi dispenses jets of air while a whirlpool specializes in jets of water. The effects are surprisingly different.
Rehabilitation
Whirlpools have the edge when it comes to rehabilitation because the water jets that shoot out are particularly powerful and provide a very effective massage for fatigued or sore muscles.
Maintenance
Whirlpools must be full of water before cleaning; simply add a packet of cleaning solution and drain. With the air jets of a Jacuzzi, once the water is removed, all that's required is running the jets for drying purposes.
Sensation
While both types of tubs offer relaxing massaging techniques, the forceful bubbles of a whirlpool work deeper into the skin, and a Jacuzzi provides a gentler, more subtle sensation.
Cost
The price for both styles of tubs are similar, averaging anywhere from $1,500 to $3,000.
Health
Both styles of tubs offer benefits of stress relief, improved sleep quality and lower blood pressure.