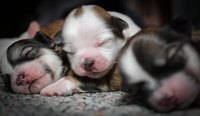 Parasites are a major health issue for dogs. While there are some natural remedies that can help your dog stay worm free, routine testing and prescription wormers are the only action proven effective.
Immune System
Keeping your dog healthy will help it resist worms. However, the healthiest of dogs can still get worms and, especially with heartworms, die if not medically treated.
Food and Herbs
Garlic in high doses can be dangerous for your dog, therefore give only one-half clove to a small dog and one to two cloves daily for a large dog to help avoid and get rid of worms. Carrots and slippery eel are both reported to help deworm dogs.

Fruit and Tree Oils
Papaya and pineapple help to eliminate and prevent worms. Neem tree oil can be fed to your dog to help kill worms.
Diatomaceous Earth
Food-grade diatomaceous earth can be fed to your dog safely to kill intestinal parasites. You can also put it on your dog, furniture and carpeting to kill fleas to help stop them giving your dog worms.
Warning
No research has confirmed that any natural dewormer is effective. Wormwood and black walnut dewormers may be toxic. Even most holistic veterinarians recommend regular heartworm preventative over natural remedies.